Open Loft Style 5 Rooms With 3 Bedrooms

  Natural Wood Beams & Oak-Exposed Brick-Parking-Patio

Appliances-Large Kitchen-Window Coverings-Tub & Shower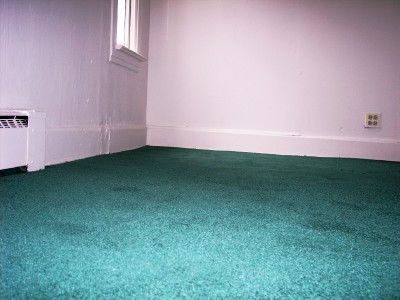 Bridgeport is close to everything and your new loft style place is in the middle of a quiet block with brick houses complete with a secure iron fence surrounding the entire property.  Your new Mini Loft is in this vintage brick building with 3 other similar units occupied by 1 or 2 other creative young progressive folks in each unit.  There is private parking in back for 3 or 4 cars.  If you are a student and you split the rent this place is much more economical than a college dorm not to mention you can impress your friends with your cool diggs.

Included with the rent is a stove & fridge,center kitchen island, bar stools, and more. Lots of kitchen cabinets with one bedroom off of the kitchen. The kitchen is larger than usual measuring 12 x 15 feet or 180 square feet. The new kitchen floor is a beautiful faux wood grain.

Notice even all of the ceiling fans are also faux wood.

Your new apartment has a cozy bathroom with new full tub, new shower new tile, new exhaust fan, new bathroom window, and even a shower curtain so that all you have to do it to move in.

One of the 3 bedrooms with new wall to wall carpet perfect for a nice little office, workout, or computer room.

If you would like to see this apartment please dial the information number in the main ad on the "For Rent" page for address, next showing time and lots more information.  If no phone number is posted yet then the apartment is not quite ready to see.  Please be patient while we make your place wonderful.

                                                          ALL ABOUT BRIDGEPORT

One of the local cyber café's is
zhoubcafe.com
down at the end of the block walking South which has free Wi-Fi and another fabulous local restaurant right around the corner walking East is polocafe.com where you can meet our friend Dave of 20 years. Famous
Connies Pizza
is right down the street on Archer and the Birdgeport was the very first Connies.
Bridgeport's Polish history can be seen in its two churches in the Polish

Cathedral style: St. Mary of Perpetual Help and St. Barbara. The Art Institute of Chicago has recently done restoration work on the paintings in the Shrine Altars at St. Mary of Perpetual Help which date back to 1890, with further plans calling for restoration of the stained glass windows and to complete the painting of the interior ceilings and rotunda. The influence of other Eastern European immigrants to Bridgeport is evident at St. Jerome Croatian Catholic Church, which holds services in both Croatian and English.

U.S. Cellular Field, home of the Chicago White Sox, is often thought to be geographically located in Bridgeport. This is a misconception. The stadium is actually located one block to the east, in the Armour Square community area.

Bridgeport has long been one of the city's political hotbeds, having been home to five of Chicago's 45 mayors. They are, in order of service: Edward Kelly, Martin Kennelly, Richard J. Daley, Michael Bilandic, and Richard M. Daley. The most prominent example of the neighborhood's influence on Chicago politics is illustrated by a 46-year long stretch (1933-1979) in which a Bridgeport native held the city's highest office. The current mayor Daley no longer resides in Bridgeport.

Bridgeport is served by the Bridgeport News, a neighborhood newspaper delivered weekly on Wednesdays to homes throughout the neighborhood. The area is also served by two Chicago Transit Authority train stations, although one of them is technically a few blocks outside of the neighborhood.

Home to the Chicago White sox and U.S. Cellular Field (formerly Comiskey Park ), old churches, and some of the most beautiful architecture in Chicago , the Chicago neighborhood of Bridgeport is an older, family-oriented spot with historic roots. Chicago's former mayor Richard J. Daley made it his home throughout his life.

Once known as Hardscrabble, then Cabbage Patch, Bridgeport got its name because it was near a bridge on the Chicago River that was too low to allow boats to pass under it, so cargo had to be unloaded there. One of the founding neighborhoods of Chicago and once a center of industry, Bridgeport is now mainly residential and retains the feel of a real Chicago neighborhood.

A neighborhood rich with generations of history, Bridgeport is enjoying a degree of modernization as former residents who left the neighborhood looking for more trendy locations are moving back to where they came from, bringing their newly-acquired modern tastes, aesthetics and families with them.

The many taverns and restaurants along Halsted accommodate the multitudes who travel here to see the White Sox ( 333 W. 35th St .). Check out some of Bridgeport's sites: Morrie O'Malley's ( 3501 S. Union Street ); Healthy Food Lithuanian ( 3236 S. Halsted Street ); Ricobene's ( 252 W 26th Street).

The El stops at Sox/35th Street .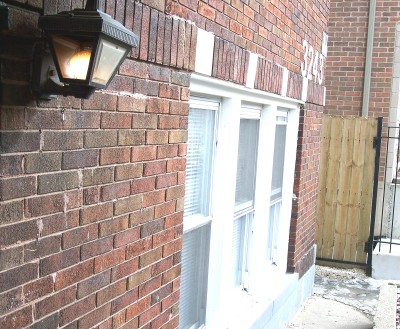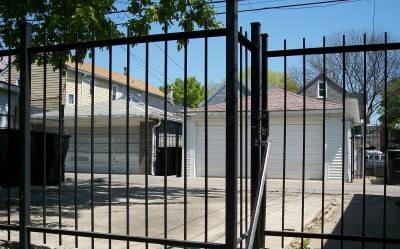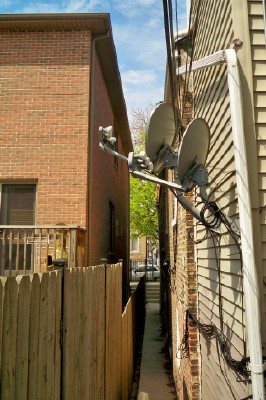 The new housing complex called "Bridgeport Village" with $500,000 houses is just around the corner from your new apartment




This loft style features open partition area for sleeping, natural beamed ceilings & golden pecan oak, exposed brick, kitchen island, new tile, new carpet, new windows, new roof & more...  Scroll down the pics then check out the virtual tour at the bottom of this page.

Room sizes are:

Living Room=12 x 14

Master Bedroom=7 x 15

Middle Bedroom=7 x 9

Back Bedroom=8 x 9

Kitchen=12 x 15

Attic Storage=10 x 9

Foyer Entry Room=11 x 16

Patio = 8 x 16

The rental space is about 750 square feet with the extra attic room. The foyer entry gives you a total of about 1000 square feet of useful loft style rental space.

With the building is included 2 shared parking spaces which will accommodate just about any size vehicle or RV.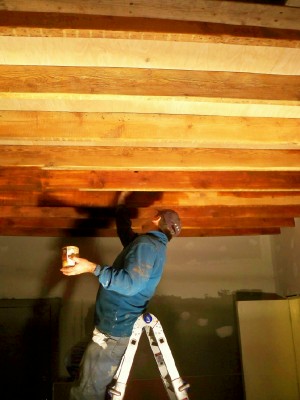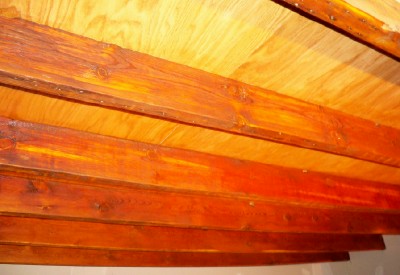 Skilled European workmen begin the long job of preparing the raw century old original 9 foot high ceiling beams by cleaning, sanding, brushing, bleaching, staining & varnishing to a gorgeous precise "golden pecan" color with oak and track lighting to really impress your guests when they see your new loft.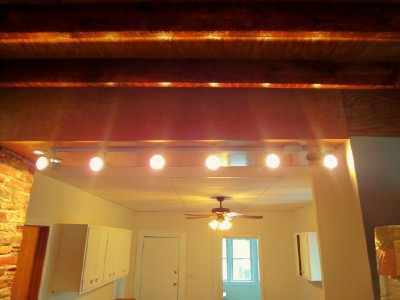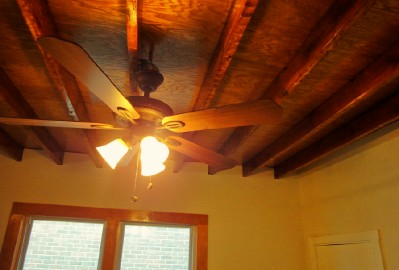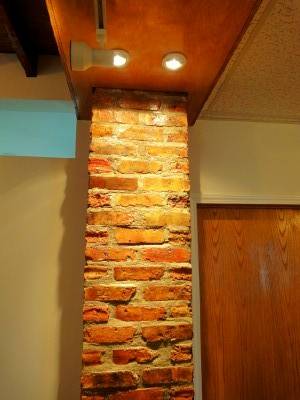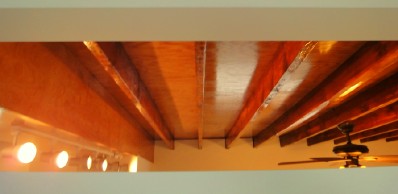 Below after many coats of varnish and color with added track lighting the beams are finally ready

The genuine brick chimney is illuminated becoming is the focal point of this mini loft. 

Pictured on the left is the small "butcher block" center island so after you sign the lease it's time to break out the Champaign. Bar stools will be provided so that you can use the island as a breakfast nook.


Above are the 2 shared private  parking spaces for your new apartment just about 10 feet from the building. 

On the right is a little patio perfect for barbeques in the summertime. The patio measures 8 x 16 feet. 

Pictured below is solar lighting and lawn furniture for enjoying your patio in the evening.

The brick has been freshly tuckpointed with several coats of varnish and custom "spot lights" can be controlled individually as well as adjustable rheostat settings for the track lights to provide any kind of mood lighting.

The building is cat friendly if you are a responsible owner.  NP with fish or ?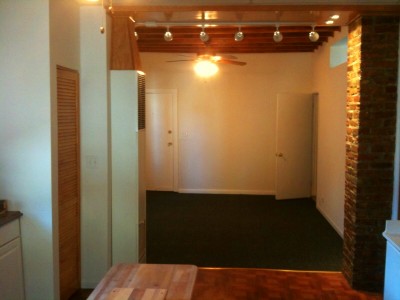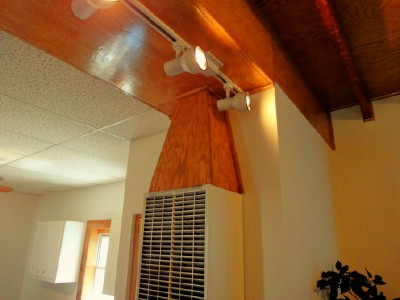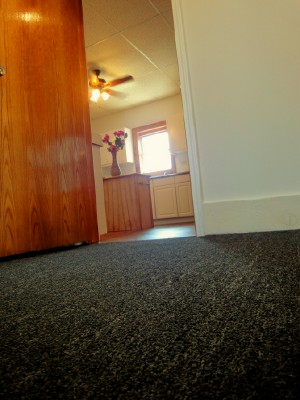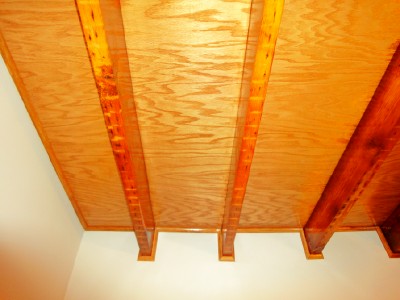 Notice all the attention to the fine oak trim on the right and below each beam is carefully surrounded by quarter in genuine oak.

Brand new high quality carpet with plush padding in every room has just been installed.  It is a darker custom Prussian with lighter highlights which is stain resistant to keep your place looking clean for years to come.

NOW TAKE A VIRTUAL WALK THROUGH YOUR NEW PLACE

NO NEED TO GO DOWNTOWN WHEN THE RIVERSIDE SQUARE SHOPPING           CENTER IS RIGHT AROUND THE CORNER AT ARCHER AND ASHLAND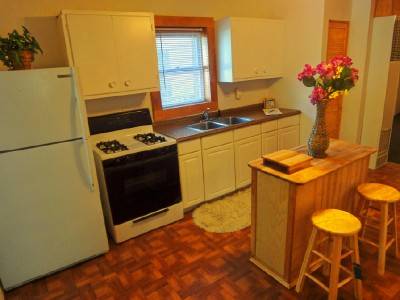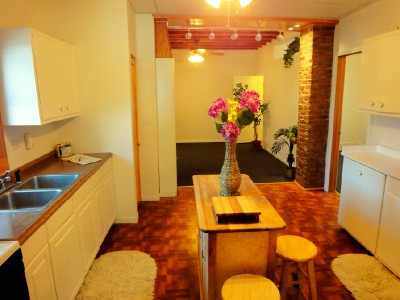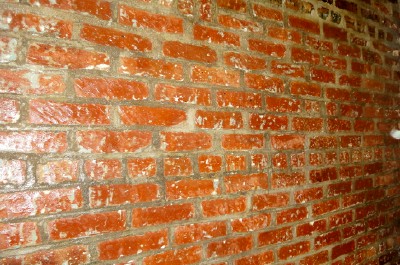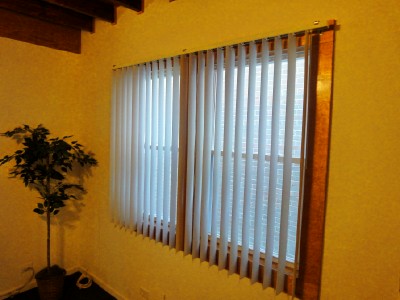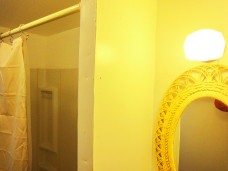 Above is another panoramic view from the kitchen and on the right are brand new vertical blinds for your bight living room.

Below is even more exposed brick as you come in the back entrance from the parking lot to go upstairs to your new mini loft.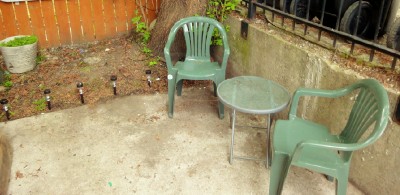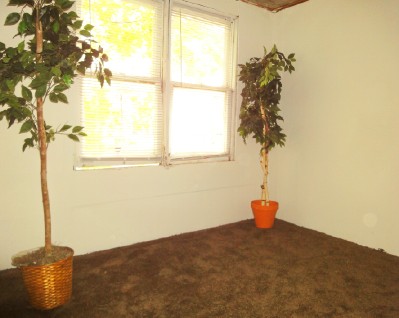 This is the new sidewalk from the front gate and an extra satellite dish is ready for your Direct TV. 

On the left is the brand new house and patio deck that our friend "Officer Tom" just built and moved into.

Extra BONUS ROOM with new mini blinds and wall to wall carpet is yours to use  making plenty of storage space a total of about 1000 square feet for your rental space.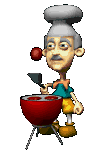 Your private porch light and new "thermal pane" double thickness windows to keep you warm in the wintertime..

Check out this really unique hi tech color changing LED faucet light that generates it's own power pictured on the right. 

No batteries needed so at night leave the lights off and you can turn on the water and watch the color changing with the temperature.  When it goes to red for hot it looks like a streaming blow torch.  Another cool creative feature that comes with your apartment.