3 BEDROOM 3 LEVEL TOWNHOUSE

   FRONT & BACK YARD & PARKING

>Below is the front entrance to your new brick town house with the wrought iron fence and nice front yard with shrubs. You have a private sidewalk in your private yard and a front porch.  Pictured below that is a look inside the main living area with the big picture window and beautiful floors. There is private parking in the back for at least 3 cars. The entire house is immaculate and has been freshly painted inside and out.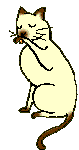 PET FRIENDLY

At BestRents we support animal rights so if you are a responsible owner spayed or Neutered cats are welcome.  We may consider a dog also.

We've reached the end of our picture video tour of your new house and the next thing you need to do is see it in person.  We would like to invite you to join us for the next showing. Every one is welcome if you are only just "window shopping" or if you are a serious renter and would like to print out your application from this site and bring it along with you with a deposit.  Simply dial the information number in the ad and the most important thing is to simply please be on time for our showing which are usually about 4 times a week.  Thanks for your interest!
Panoramic views of your new immaculate duplex townhouse inside and outside

Level 2 big clean kitchen, stove & fridge, right off of the living room,  On the left is your new back yard with parking in back for 3 cars and patio

Pictured on the right is level 1 is big basement with laundry and utility sink, central heater, glass block windows.

Big & clean kitchen with lots of counter space and lots of designer color cabinets. .Stainless steel sink with sprayer and notice the unique LED color generated water faucet.  Blue is cold and Red is hot with colors in between.  Everything including the stove and fridge is included with the rent.

Bathroom has movie star lights, new toilet, new tub and shower with even a new shower curtain.  There is nothing left to do but get the keys and move in.

New modern vertical blinds or mini blinds on EVERY window.

Huge basement with lots of stand up room, central heat, washer & drier hookup, utility sink, immaculate and freshly painted with custom sparkle speck paint.  There are brand new circuit breakers with lots of electric service to run any of your appliances.

CLICK BELOW FOR A COMPLETE WALK THROUGH OF THE INSIDE AND OUTSIDE OF YOUR NEW HOME.  COME IN AND GET COMFORTABLE

At the end of a busy day the sun sets and the automatic lights go on.  Last one home turn out all the lights and let's go to bed.

Plush designer carpet everywhere on the 3rd level of bedrooms.  Pictured on the left is the master bedroom, all with big closets, ceiling fans, and new carpet

 CLICK BELOW FOR AN EXPRESS TOUR OF YOUR NEW PLACE ON HALLOWEEN